BERK, Daniel Benjamin
Tuesday, February 1, 2005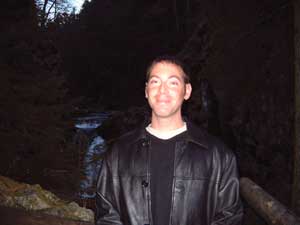 BERK, Daniel Benjamin - An extraordinary life was lost when Daniel Berk passed away after being caught in an avalanche while snowboarding in the Austrian Alps on January 22nd. He was born May 8th, 1973, into a devoted and close family. Daniel was the beloved son of Jane and Ira Berk; loving brother of Valerie Berni and her husband Brian and wonderful uncle to their children Kai, Logan and Hunter. He was the adored brother and best friend of Michael Berk and Mike's girlfriend Laurel Frowine. He was the treasured grandson of Bertha Aschner and the cherished nephew of Karen Horlick, Evelyn Millian and Barbara and Alan Berk and a special cousin to their children and grandchildren. Loving companion to his longtime girlfriend Patrycja Oselkowska.
Daniel attended Aragon High School in San Mateo where he was an honor student and participated in track and soccer. While at University of California, San Diego, he was on the Dean's List and graduated with a B.S. in neurobiology and a B.A. in psychology. After graduation, he began his career at Ernst &Young and then joined a startup company, Netboost, which was later acquired by Intel. For the last five years he worked for Intel in Munich, Germany. Daniel was an avid traveler and reader and enjoyed many sports. But above all his varied interests and accomplishments, Daniel valued his friendships and family. His intelligence, warm heart, engaging personality and zest for life will be missed greatly by all who knew him. A website for Daniel is at www.sen-c.com/berk/
A Memorial Service and Tribute to Daniel's life will be held on Sunday, February 6 at noon, at Temple Beth El, 1700 Alameda de Las Pulgas, San Mateo. The family requests donations to either the New Israel Fund (www.nif.org), PO 785 Market St, 14th Flr, SF, CA 94103); Kid's Israel Trip Scholarship Fund, Temple Beth El, 1700 Alameda de las Pulgas, San Mateo, CA 94403, 650-341-7701; or Shaare Zedek Medical Center, (www.szmc.org) 703 Market St, Ste 703, SF 94103. 415-957-1288; or your preferred charity.